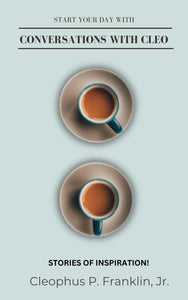 It's here and ready to order!
Franklin's fourth leadership book "Conversations with Cleo" is a wonderful collection of inspirational essays and wisdom-filled stories that continues from his first three books! Ever the master collaborator, Franklin once again provides the perfect morning cup of coffee companion: stories that provoke that "good" conversation to start your day.
Each story is masterfully positioned within the book to make the reader anxious to turn the pages for more. This book is unique because the stories include honest and intimate details of people and events that helped shape their professional and personal lives. So, take advantage of this opportunity to add another perfect read filled with profound storyteller's journeys to your book collection.
"It's tricky to put together a book that is inspiring, insightful, business-friendly, and yet fully human. Cleophus "Cleo" Franklin Jr. has done it again, and this time, his willingness to share center stage with smart and interesting writers makes it all the more powerful. The wisdom and knowledge in this book are both simple and profound, as it is filled with lessons anyone can use. I highly recommend this leadership book!" - Rus Bradburd, Author, Basketball Coach, and New Mexico State University Professor.