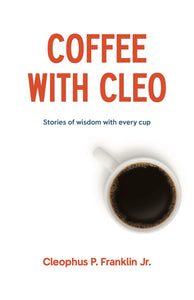 Start your day with Coffee with Cleo
In this book, Cleo Franklin has successfully deployed the magical and powerful subtleties of storytelling and delivered them most engagingly. Its 10 chapters are filled with insightful stories based on brutal honesty, personal experience, and self-reflection.
Through artful storytelling, Cleo offers valuable leadership lessons for any aspiring leader or start-up business team seeking guidance and a framework to help develop and improve their leadership skills and sage advice to anyone who is searching for wisdom from someone who has learned and is still learning... For many successful executives, it will serve as a reminder that we should sometimes jog the memory for insights that have, perhaps, been long forgotten.
It's a book meant to be enjoyed with a steaming cup of coffee by your side. I hope you will like it, and learn from it, as I did.
—Anand G. Mahindra, Executive Chairman, Mahindra Group
Just as I've shared a story of how Cleo personally helped me in my career, in "Coffee with Cleo", he tells similar stories about the sources of his own inspiration, which I very much enjoyed. He shared stories about those people that we all have, those who've helped us along the way. And it's a fine tribute to them all.
I highly recommend "Coffee with Cleo."